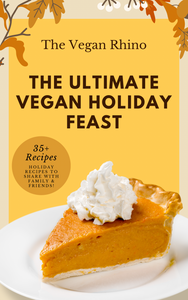 Are you looking for delicious vegan-friendly recipes to share with your family this holiday season? This Ultimate Holiday ebook has 35+ easy to make recipes that will surely impress your family and friends.
Have any of these statements ever crossed your mind?
- What will I eat this holiday dinner that is vegan-friendly?
- I dont know where to begin or what to make.
- Cooking just takes way too long and I dont have time.
- Ill just wing it and try and eat the sides.
All those worries, stress, and problems are gone with the help of The Ultimate Vegan Holiday Feast Ebook. What you can find in this book:
- Snacks
- Side Dishes + Appetizers
- Entrees
- Desserts
- And more!
Dont forget if you have tried one of these recipes, please share it with us by using #TheVeganRhino and @TheVeganRhino.
**Please note that once purchased, there are no refunds allowed for digital books.